Malta is one of three countries with the lowest unemployment and the top performer for economic growth in the eurozone, according to a review by rating agency DBRS
With economic growth reaching the 5.7% mark in the first half of 2018, Malta has emerged as the top eurozone performer in a league table compiled by a leading rating agency.
In its macro update for Europe, DBRS reported on Tuesday that Malta's real GDP growth in the first six months was well above the euro area average of 2.3%.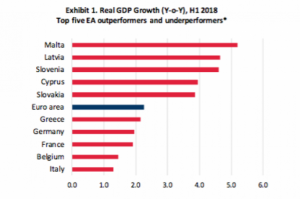 The league table showing Malta topping the list for GDP Growth in the first half of 2018 
The second and third-best performers were Latvia and Slovenia with growth rates of 4.4% and 4.3% respectively.
But Malta was also among the three countries with the lowest unemployment rate at 3.9%.
Germany had the lowest unemployment rate at 3.4%, while the Netherlands registered a rate at par with Malta.
DBRS said growth in the euro area had "a weak start" to the year but remained steady. "Growth was driven by household consumption and gross fixed investment. By country, the top performers include Malta, Latvia, and Slovenia, while the underperformers include Italy, Belgium and France," DBRS said.
At its September policy meeting, the European Central Bank (ECB) revised downwards its economic growth forecast for the eurozone in 2018 as a result of rising external risks.
The ECB had already cut its growth forecast to 2.1% from 2.4% in its June meeting. The projection for 2019 was also revised downward to 1.8% from 1.9%.